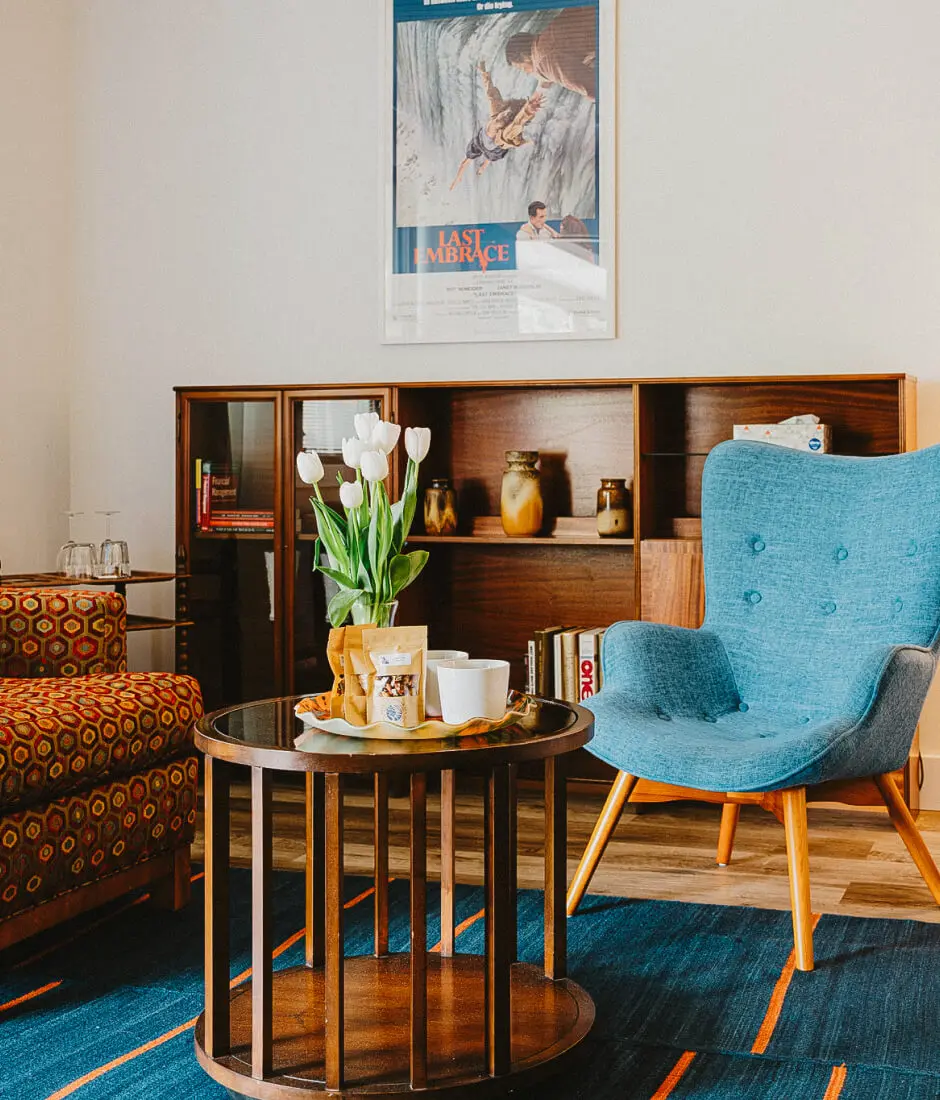 A Motor Inn with a Modern Twist
The Kent Motel is an easy-going, boho-inspired motel with a nod to the motor inn and the spirit of highway adventure. As the eclectic, modern companion to the chic, historic South Landing Inn, this boutique motel offers 18 rooms of different types, catering to the needs of families and couples.
Recent upgrades feature clean, crisp bathrooms, gas fireplaces, and up-cycled, vintage decor as part of a broader motel revival across North America. Built on the site of one of Canada's first railway stations and overlooking the Niagara River, the Motel's 2-story veranda, and east-facing balconies offer the perfect vantage point to unwind and enjoy all the natural, cultural, and gastronomic wonders of the Niagara region.
The Rooms
The Kent Motel has a variety of rooms that cater to the needs of road warriors and sophisticated travellers alike. The rooms are tastefully furnished with upcycled vintage decor and boho-chic antiques that offer a warm repose. Each room has access to a shared outdoor hallway.
The guest lounge is coming soon!
Local Bounty
This planet is beautiful and it is what sustains us and our communities. We thus uphold our responsibility to this earth ​by ​​making informed, thoughtful, and sound ​environmental​ decisions.
Learn how we're taking initiative
Had the most relaxing magnificent stay for my partners and I's anniversary. The location was amazing, fall scenery amazing, check in was so easy, same with check out. Deb had prepared a chocolate anniversary surprise for our arrival which we SO appreciated. After a long long day of walking around coming back to this cozy suite (freshly cleaned!) and it's amazing bed and fireplace was truly beautiful. Looking forward to regular stays for sure!
Love this place! Clean, beautifully decorated, quiet, and comfortable!! I am currently looking to buy the mattress I slept on. Best nights sleep I have had in forever! Close enough to restaurants and attractions, but far enough away to enjoy the quiet. Lots of hiking trails right outside the hotel as well. Would definitely stay here again.
Congrats on your reopen! Finally a cool funky place to stay in Niagara, Its just what was needed. The design was beautiful... boho hip meets a touch of European luxury. Those linens... wow! Just a great eclectic mix of all the right things. The staff is so warm and friendly and made sure we had anything we needed. We were also so impressed with how safe everything was without ever feeling tense or militant. Its just what we needed to feel like we could take a break from the City. We are definitely coming back for the full fall colors! Great job.